As a rule, ordering a makeup artist is not the most everyday event in a girl's life. And it doesn't matter for which event you decide to order a master – for a wedding, a photo shoot, or just for going out – any girl wants to make the right choice of a specialist.
Where to look for a makeup artist
Features of salon masters
I do not advise you to go to a beauty salon for makeup. As a rule, makeup artists with little experience work there to "get their hands on" and build up a client base. Therefore, in the cabin, there is a high probability of falling into the hands of an inexperienced master. In addition, there is rarely an opportunity to look at the portfolio; you get a "pig in a poke." If you are still going to go to the nearest salon, it's good if he has at least an Instagram page where you can see the work.
Of course, the exception is high-level salons that value their reputation and carefully select staff. You can also safely go to a salon opened by a qualified private master with good experience and high qualifications. Many makeup artists open their own space at some point in their career because aggregator sites are not the best option.
Also, be careful with sites like profi.ru and the like. Such intermediary sites take a certain percentage, so it would be more profitable to contact the master directly – perhaps the price will be lower.
Private Masters
I advise you to look for "your" makeup artist among private specialists. You can study in detail the portfolio of the master, communicate with him directly. Perhaps one of your friends can recommend the master to you, or perhaps you will find a makeup artist in a search engine. Explore sites, read reviews, look at the overall aesthetics.
What to Look for When Choosing a Makeup Artist?
Portfolio
Of course, first of all, you need to see the work of the master. Evaluate technicality and general aesthetics – not only the professionalism of the master is important, but also his style. See what images prevail in the portfolio. For my part, I can say that we, the masters, usually put in the portfolio those works that we want to do in the future, in style close to us. It makes no sense to ask a makeup artist for a huge "lace" bun if his work clearly shows a love for light, airy and textured hairstyles. And vice versa – the master, whose portfolio has a lot of "royal" hairstyles and super-bright makeup, is hardly a good choice for you if you want a delicate, airy look. This does not mean that the master is bad. It's just not "your" makeup artist.
Look not only at the site but also on Instagram; there are usually more works there. On Instagram, in addition to the final retouched photos from the shooting, you can also look at the "live" photos of clients taken by the master on the phone.
Price
Of course, the price of the master is an important selection criterion. However, I do not advise you to save! You are clearly ordering a makeup artist, not for the most everyday event of your life, right? Whether it's a photo session, a trip to a restaurant, or, even more so, a wedding – you want to look your best once you decide to contact a specialist.
An image from a good master (especially in a big city) cannot cost 1000 rubles. After all, the price includes the work itself and cosmetics and tools that the master uses.
Also, in my opinion, price transparency is important. It's good if all the nuances are spelled out in the master's price list – will there be an additional charge for the use of false eyelashes, home visits, early check-out, etc. If you did not find such information on the makeup artist's website, ask the master about these points in advance to avoid unpleasant surprises in the form of an unexpectedly increased service cost.
Communication
Do not hesitate to ask the master all the questions you are interested in – by the answers, you will be able to evaluate the return of the specialist and his interest in working with you. In addition, questions will help establish contact with the master and find common ground.
A professional answers questions confidently and clearly, without arrogance, because we know that those things that may be obvious to us, makeup artists, are incomprehensible and unknown to you. It is worth hesitating to go to a master who gives unintelligible answers to questions or talks down to you.
When negotiating with the master, describe what you want in as much detail as possible. Be sure to let your makeup artist know if you are allergic to any cosmetic product. Attach your photo and tell us about how you make up every day. If there are makeup pictures you like, attach them too. Remember that the more clearly you describe your wishes, the more likely you will be understood, and you will like the result.
Prepayment
Do not be afraid of the master asks you to make a deposit. Many specialists work according to such a system. No one plans to run away with your money. We all value our reputation very much. Making an advance payment is a guarantee that at this time, the makeup artist will do your makeup for you, that this time will not be occupied by another client. You will not know about it a couple of hours before the appointed time.
First meeting
If you have the opportunity to rehearse the image, especially I advise you not to neglect this before the wedding. Here's what you should pay attention to during the "probe" (although all these points are worth considering, even if the first meeting with the master takes place directly on the day of your event):
Sterility and disinfection
Brushes and other tools that the master uses in his work must be clean. Now, many express cleaners and disinfectors allow you to clean and sterilize brushes between clients in minutes. As a makeup artist, I sincerely believe that if the master picks up a dirty brush and will paint you with it, you have every right to get up and leave.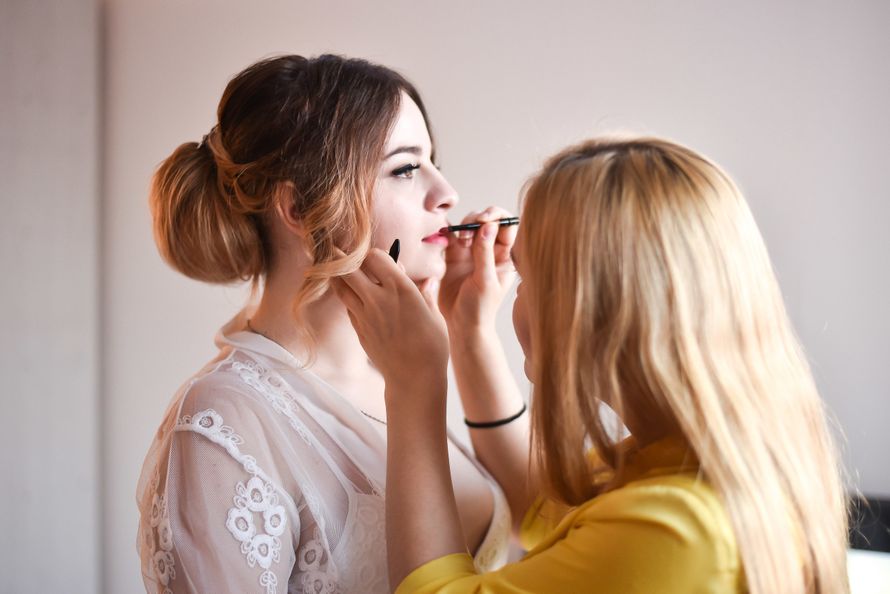 Also, a good master will definitely disinfect his hands directly in front of the client, even if he has already washed them before.
In no case should the makeup artist blow off excess powder or shadow from the brushes.
Cosmetics
Pay attention to what cosmetics the masterworks are on. However, keep in mind that many professional brand names may not be known to you due to the lack of extensive advertising for these brands. Do not be afraid of the makeup artist's case containing products from the mass market – in this segment, there are very worthy products loved by many professional makeup artists for party makeup. For example, Lumened CC cream, Catrice corrector, Vivienne Sabo, Gormandize mascaras, Nyx tints, etc. But nevertheless, products of the professional and luxury segment should prevail in the case of the master.
Appearance
A good master is aware that his appearance is a real calling card for the client. How well-groomed he speaks volumes about his professionalism. Of course, the makeup artist does not have to be in festive clothes and "war paint." But, in my opinion, neatness, accuracy, and cleanliness are obligatory. Dirty hair and "stale" makeup are unacceptable.
It doesn't matter what the length of the nails is – they must be with a neat manicure. If the nails are long, then in no case should there be traces of foundation or, especially, dirt under them.
Conclusion:
"Your" master should not only be a good makeup artist but also be likable; you should be as comfortable and pleasant as possible to communicate with him. Therefore, pay attention to everything – a portfolio, appearance, how a specialist keeps himself.